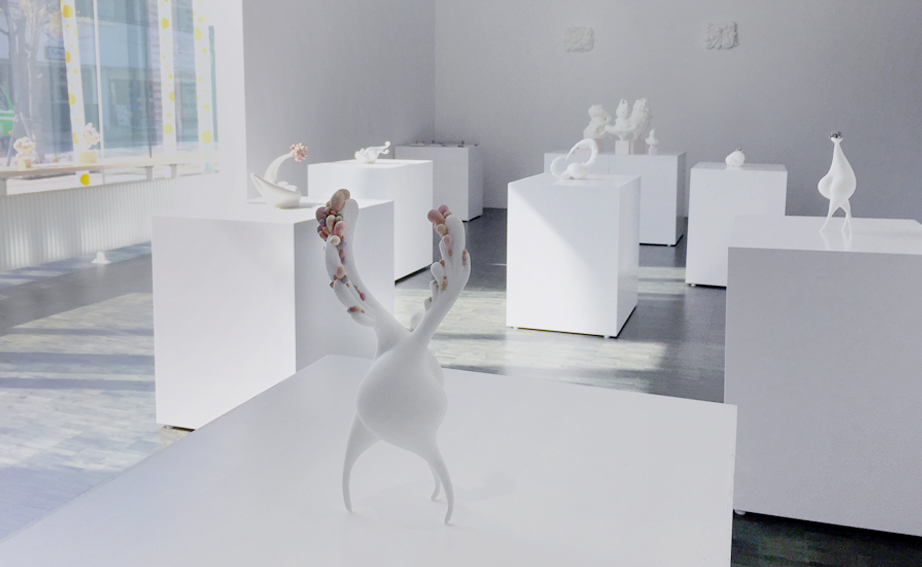 4/27〜5/30 丸尾結子作品展 Yuco Maruo [ BLOOM ]展
軽井沢ニューアートミュージアムGallery 3にて、新作[ BLOOM ] シリーズを含む、立体造形作品を展示・販売しています。
春先の庭に集まる淡く色とりどりの光たちのような、しなやかで少し強引なエネルギー…
自分の内側から、溢れそうな、生まれ育ちたがっている、生きる力のようなもの…造形にすると女性のシルエットのようでもあり開花する蕾のようでもあるその様子のような。
そんな今回の作品たち。
身のこなしやそれを取り巻く空間にはどこか「和」のイメージも感じて、これまでとは違う色彩を使った表現にもチャレンジしています。
自然光の入るギャラリーで、とても心地の良い展示となりました。是非、軽井沢へお越しの際は、作品を感じていただければと思います。
http://whitestone-karuizawa.jp/exhibitions/d/?id=6
軽井沢ニューアートミュージアムGallery 3
http://knam.jp/
4/27〜5/30 (火曜日定休)


——
Yuco Maruo proudly presents her new series at Whitestone Gallery Karuizawa starting this spring. Her sculptures are well known for sharing unique world of fairy-like creatures, which are all so lively that they almost seem to move on their own. Her beloving creatures share in common soft and smooth texture and cream like feminine forme, which expresses sense of liveliness and pure happiness. Her works are also unique for having monotone color. The surface of the figures are milky white, which explains the creatures' purity and innocence; and also leaves opportunities for the audience to imagine what color such creatures may be.
The process of creating works by her hands and instilling emotions to the works enables her to produce the stories of each creatures like a page of picture book. Her heartful emotions not only makes the creatures lively, but also warms the heart of the people visiting her world.
In the artist's recent art works, she started to focus on expressing a gush of overflowing energy from her inner mind. The overflowing energy, various emotions, and a desire to be born is her new motive. According to the artist, the buds which are ready to broom have an erotic and bizarre enegy. It is sometimes grotesque but beautiful and attractive. She wishes the visitors to feel those energy from her works.
Artist's Statement :
I focused on and tried to express a supple but forcible energy like colourful lights of a garden in spring. I found out that the vitality is about to be born and overflowing from my mind. The sense is like feminine strength and softness, and I felt that its carriage is somehow related to "和"(Wa), which means harmony in Japanese. These concepts led me to employ new colours for my works.
When I make the shapes of creatures with stone clay and polish them, I get a moment of feeling of organic lives. Then I polish them more and complete the process of producing.
I believe that this is a great opportunity to see my works under the sunshine which brings different tastes throughout the day.